New Letniskowo Mobilheim Mobile House JB Homes - SILVER MOON 57qm mobile home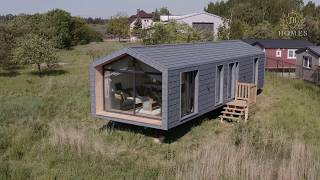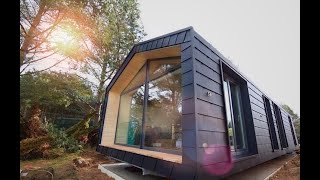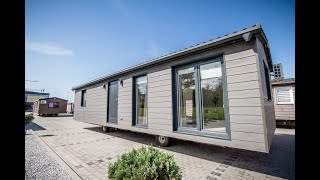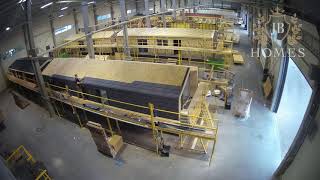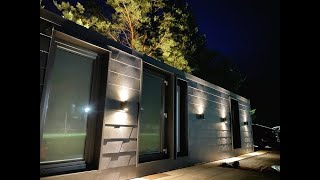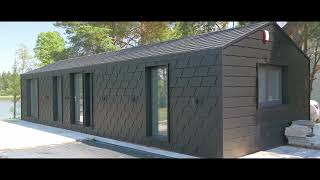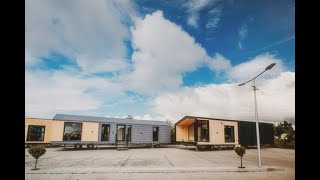 1/56
Description
Overall dimensions
43.64 ft × 13.78 ft × 12.47 ft
Need delivery?
Calculate the cost of delivery
Documents
Description

External dimensions: 13.3 x 4.3m (57 m2)
Usable area: 44 m2
Weight: 12.5 tons
Height of rooms: living room with kitchen 2.75m, bathroom 2.45m , hall 2.45m, bedroom 1: 2.75m, bedroom 2: 2.75m
Number of rooms: 2 bedrooms, living room with kitchen, bathroom with toilet
Number of sleeping places: 5/6
Construction of the mobile home: Steel (floor, walls, roof) completed with wooden substructure and OSB board. Made based on a construction design. 4 wheels, including 2 steering wheels (steering axle). Drawbar set from the front to the back enabling pulling the house; prepared for traverses enabling lifting with crane.
Floor: Steel structure elements, galvanized steel sheet, PUR open-cell foam 18 cm, OSB board 22mm and vinyl panel.
Roof: In addition to steel construction elements, wooden substructure, PUR open-cell foam 18 cm, roof covered with aluminum facade slate.
External walls: Elevation finished with aluminum facade slate. In addition to the steel structure elements, there are wooden slats in the walls, OSB, insulation of PUR open-cell foam 18 cm, membrane (wind insulation) and vapor barrier foil.
Internal walls: Covered with a wide MDF panel, bathroom with Kerradeco wall system, siling (living room with kitchen, hall) wooding paneling; partition walls soundproofed with mineral wool 5cm.
Door: PVC one-winged entrance door 90/200 cm with high quality finish in anthracite veneer with glazing in a triple glazed package; MDF white internal doors 70/200 cm.
Windows:
7/6-chamber system, profile/80mm, triple pane system with a steel frame, high-performance hard PVC profiles in a high-quality finishing surface in anthracite veneer, fully glazed gable wall in the shape of 3.60 x 2.75m, balcony window 160/200.
Electric Installation: main switchboard, 3-phase installation. Electric wires in an additional conduit. Wire to the sockets: 3 x 2.5 mm2, for lighting 3 x 1.5 mm2. Internet and USB socket, 1 electrical antenna socket and switches.
2 double outside sockets, a single socket under the home for an optional heating cable.

Water and sewage installation: ALU-PEX and PVC pipes in the kitchen and bathroom.
The wall-hidden installation led out under the home to power supply.
Ventilation: ventilation of roof space, sanitary installation,
continuous supply and exhaust ventilation, centralized, two-stage with a duct fan located above the room ceiling.

Indoor lighting: ceiling lighting – LED points in each room and additionally linear LED lighting.
Outdoor lighting: 3 directional wall sconces and additional waterproof linear LED lighting in the fully glazed gable wall.
Heating: ribbed radiator in the bathroom (350 W), underfloor heating (special heating foil for work under the floor panel) cooperating with controllers with Wi-Fi function.
Bathroom: Square corner shower 80x80 cm made of one form, LED hanging round mirror 80cm, counter top washbasin and cabinet with built in 80l boiler, hanging toilet bowl.
Kitchen: Kitchen island, silent close bottom and wall cupboards, built in large fridge, telescopic hood, 4-ring induction hob, stainless steel inset sink, combined oven with microwave function, washing machine and dishwasher in the kitchen island, HPL compact tabletop.

Living room: fold-out sofa bed, coffee table, hanging cabinet, air conditioner.

Bedroom 1: 2 single beds 80/200 cm with changeable spring mattresses and bedding container, night table, 2 wardrobes (bar, shelves), 2 hanging cabinets.
Bedroom 2: 1 double bedroom 160/200 cm with changeable spring mattress and bedding container, wardrobe with sliding door (bar, shelves), 2 night tables.


Hall: Wardrobe in the recess with additional LED lighting (bar, shelves).
Beschreibung
Außenabmessungen: 13,3 x 4,3m (57 m2)
Nuetzugsflaeche 46qm
Gewicht: 12,5 Tonnen
Höhe der Räume: Wohnzimmer mit Küche 2,75m, Bad 2,45m , Flur 2,45m, Schlafzimmer 1: 2,75m, Schlafzimmer 2: 2,75m
Anzahl der Zimmer: 2 Schlafzimmer, Wohnzimmer mit Küche, Badezimmer mit Toilette
Anzahl der Schlafplätze: 5/6
Konstruktion des Mobilheims: Stahl (Boden, Wände, Dach), ergänzt mit Holzunterkonstruktion und OSB-Platte. Hergestellt auf der Grundlage eines Konstruktionsentwurfs. 4 Räder, davon 2 Lenkräder (Lenkachse). Deichsel von vorne nach hinten, die das Ziehen des Hauses ermöglicht; vorbereitet für Traversen, die das Heben mit Kran ermöglichen.
Boden: Stahlkonstruktionselemente, verzinktes Stahlblech, offenzelliger PUR-Schaum 18 cm, OSB-Platte 22 mm und Vinylplatte.
Dach: Zusätzlich zu den Stahlbauelementen, Holzunterkonstruktion, offenzelliger PUR-Schaum 18 cm, Dach mit Aluminium-Fassadenschiefer gedeckt.
Außenwände: Fassade mit Aluminium-Fassadenschiefer verkleidet. Zusätzlich zu den Stahlbauelementen gibt es in den Wänden Holzlatten, OSB, Dämmung aus PUR-Offenzellschaum 18 cm, Membran (Windschutz) und Dampfsperrfolie.
Innenwände: Verkleidet mit einer breiten MDF-Platte, Bad mit Kerradeco-Wandsystem, Siling (Wohnzimmer mit Küche, Flur) Holzvertäfelung; Trennwände schallgedämmt mit Mineralwolle 5cm.
Tür: Einflügelige PVC-Eingangstür 90/200 cm in hochwertiger Ausführung in anthrazitfarbenem Furnier mit Verglasung in Dreifachverglasung; Innentüren aus MDF weiß 70/200 cm.
Fenster:
7/6-Kammer-System, Profil/80 mm, Dreifachverglasung mit Stahlrahmen, Hochleistungs-Hart-PVC-Profile in hochwertiger Ausführung in anthrazitfarbenem Furnier, vollverglaste Giebelwand in Form von 3,60 x 2,75 m, Balkonfenster 160/200.
Elektroinstallation: Hauptschalttafel, 3-Phasen-Installation. Elektrische Leitungen in einem zusätzlichen Leerrohr. Leitung zu den Steckdosen: 3 x 2,5 mm2, für Beleuchtung 3 x 1,5 mm2. Internet- und USB-Steckdose, 1 elektrische Antennensteckdose und Schalter.
2 Doppelaußensteckdosen, eine Einzelsteckdose unter dem Haus für ein optionales Heizkabel.
Wasser- und Abwasserinstallation: ALU-PEX und PVC-Rohre in der Küche und im Bad.
Die wandverdeckte Installation führte unter dem Haus zur Stromversorgung heraus.
Lüftung: Belüftung des Dachraums, Sanitärinstallation,
kontinuierliche Be- und Entlüftung, zentralisiert, zweistufig mit einem Kanalventilator, der sich über der Raumdecke befindet.
Innenbeleuchtung: Deckenbeleuchtung - LED-Punkte in jedem Raum und zusätzlich lineare LED-Beleuchtung.
Außenbeleuchtung: 3 gerichtete Wandleuchter und zusätzlich wasserdichte lineare LED-Beleuchtung in der vollverglasten Giebelwand.
Heizung: Rippenheizkörper im Bad (350 W), Fußbodenheizung (spezielle Heizfolie für die Arbeit unter der Bodenplatte), die mit Reglern mit Wi-Fi-Funktion zusammenarbeitet.
Badezimmer: Quadratische Eckdusche 80x80 cm aus einer Form, LED-Hängespiegel rund 80cm, Aufsatzwaschbecken und Schrank mit eingebautem 80l Boiler, hängende Toilettenschüssel.
Küche: Kücheninsel, geräuschlos schließende Unter- und Hängeschränke, eingebauter großer Kühlschrank, ausziehbare Dunstabzugshaube, 4-Platten-Induktionskochfeld, Edelstahl-Einbauspüle, kombinierter Backofen mit Mikrowellenfunktion, Wasch- und Geschirrspülmaschine in der Kücheninsel, HPL-Kompakttischplatte.
Wohnzimmer: ausklappbares Schlafsofa, Couchtisch, Hängeschrank, Klimaanlage.
Schlafzimmer 1: 2 Einzelbetten 80/200 cm mit auswechselbaren Federkernmatratzen und Bettzeugcontainer, Nachttisch, 2 Kleiderschränke (Bar, Regale), 2 Hängeschränke.
Schlafzimmer 2: 1 Doppelbett 160/200 cm mit auswechselbarer Federkernmatratze und Bettzeugcontainer, Kleiderschrank mit Schiebetür (Stange, Einlegeböden), 2 Nachttische.
Flur: Kleiderschrank in der Nische mit zusätzlicher LED-Beleuchtung (Stange, Einlegeböden).
Der Preis beinhaltet keine Transportkosten
*Erstattung der Reisekosten (bis zu 500 EUR) , wenn ein Auftrag am Firmensitz erteilt wird.
Bei uns Finden sie Ihr Traumhaus: kompakt, klein, mobil und winterfest.
Es sind verschiedenen Modelle ( von 35qm 43qm bis zu 57qm)qm 43qm bis zu 57qm)
Mehr erfahren Sie hier :
show contacts
Important
This offer is for guidance only. Please request more precise information from the seller.
Safety tips
Seller's contacts
Marzena Rymsza
Languages:
Polish, PersonInfo.phtmlGerman
Mon - Fri
08:00 am - 04:00 pm
Monika Filipiuk
Languages:
English, PersonInfo.phtmlPolish, PersonInfo.phtmlGerman
Mon - Fri
08:00 am - 04:00 pm
Poland, Podlaskiy, 15-620, Białystok, ul. Elewatorska 29
Seller's local time: 05:35 am (CEST)
Selling machinery or vehicles?
You can do it with us!