New Letniskowo Mobilheim/ Mobile House - BLACK STONE XL 57 m2 mobile home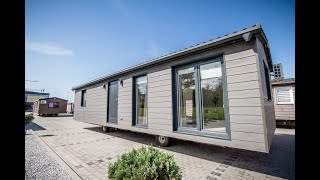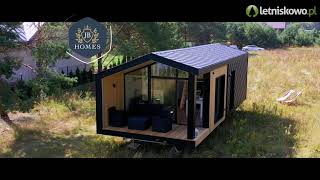 1/33
Model
Mobilheim/ Mobile House - BLACK STONE XL 57 m2
Year of manufacture
04/2021
Location
Poland
Białystok
Description
Overall dimensions
105 ft × 45.93 ft × 13.02 ft
Transport dimensions
105 ft × 45.93 ft × 13.02 ft
Buy by leasing
Get an offer to buy a vehicle by leasing
Need delivery?
Calculate the cost of delivery
Documents
LUXUS MOBILHEIM BLACK STONE XL JB 57m2
- Abmessungen 13,3mx 4,3m- 57m2
- Anzahl der Raume : Wohnzimmer mit Kuechenzeile, Badezimmer,
- 2x Schlafzimmer, Aussenterrasse
- Anzahl der Schlafplaetze 4/5
- Nutzfläche 39,8m2
- Gewicht 12 Tonnen - Raumhöhe 2.75 m
- Mobilheimkonstruktion: Stahlgerüst mit Holzelementen.
- Fußboden: Neben Stahlbauelementen auch wasserfest verleimtes Sperrholz,
- Dach / Decke: Neben Stahlbauelementen auch eine Unterkonstruktion aus Holz, offenporiger Polyurethan-Schaumstoff 18 cm, hochdampfdurchlässige Membran, OSB-platte. Dach mit Aluminiumfassadensystem bedeckt,
- Eine erhöhte Decke im ganzen Haus mit Holzverkleidung und Kerradeco-wandpaneelen belegt.
- Außenwände: Fassade mit Aluminiumfassadensystem verlegt und mit Fassadenbretter .
- Trennwände: Holzkonstruktion, OSB-PIatte mit MDF-PaneeIen und Kerradeco-Wandsystem bedeckt, Trennwände gedämmt mit 5cm Mineralwolle
- Türen: 3-fach verglaste, einflügelige Eingangstür Breite/Höhe 90/200 cm, aus hochwertigem PVC mit Außendekorfolie in verschiedenen Farben,
- Innentüren 70/200 cm, weiß.
Das Mobilhaus kann nach vorheriger Absprache bei uns im Firmensitz in Białystok, Polen angeschaut werden.
Der Preis beinhaltet keine Transportkosten
*Erstattung der Reisekosten (bis zu 500 EUR) , wenn ein Auftrag am Firmensitz erteilt wird.
Bei uns Finden sie Ihr Traumhaus: kompakt, klein, mobil und winterfest.
Es sind verschiedenen Modelle ( von 35qm 43qm bis zu 57qm)qm 43qm bis zu 57qm)
Fotos sind nicht Gegenstand des Angebot .
Mehr unter :
show contacts
JB Homes Black Stone XL
- Wymiary 13,3mx 4,3m- 57m2
- Ilość pokoi: Pokój dzienny z aneksem kuchennym, łazienka,
- 2x sypialnie, taras zewnętrzny
- Liczba miejsc do spania 4/5
- Powierzchnia użytkowa przyczepy kempingowej 39,8m2
- Waga 12 ton - wysokość pomieszczenia 2,75 m
- Konstrukcja domu mobilnego: rama stalowa z elementami drewnianymi.
- Podłoga: Oprócz stalowych elementów konstrukcyjnych również sklejka wodoodporna klejona,
- Dach / strop: Oprócz elementów konstrukcji stalowej również podkonstrukcja z drewna, pianka poliuretanowa otwartoporowa 18 cm, membrana wysokoparoprzepuszczalna, płyta OSB. Dach pokryty aluminiowym systemem fasadowym,
- podwyższony sufit w całym domu pokryty szalówką drewnianą oraz panele ścienne Kerradeco.
- Elewacja ułożona w systemie fasadowym aluminiowym i obłożona deskami elewacyjnymi .
- ściany działowe: Konstrukcja drewniana, płyta OSB-PIatte obłożona płytą MDF-PaneeIen oraz system ścienny Kerradeco, ściany działowe ocieplone wełną mineralną 5cm -
- Drzwi: trzyszybowe, jednoskrzydłowe wejściowe o szerokości/wysokości 90/200 cm, wykonane z wysokiej jakości PCV z zewnętrzną folią dekoracyjną w różnych kolorach,
- drzwi wewnętrzne 70/200 cm, białe.
Dom mobilny można obejrzeć po wcześniejszym uzgodnieniu w siedzibie naszej firmy w Białymstoku.
Cena nie zawiera kosztów transportu
*Zwrot kosztów podróży (do 500 EUR), jeśli zamówienie zostanie złożone w siedzibie firmy.
Zdjęcia nie są przedmiotem oferty U nas znajdziesz swój wymarzony dom :kompaktowy, mały, mobilny, zimowy.
Dostępne są różne modele (35 m kw., 43 m kw., 57 m kw.).
Więcej na stronie:
show contacts
Important
This offer is for guidance only. Please request more precise information from the seller.
Safety tips
Seller's contacts
Marzena Rymsza
Languages:
Polish, German
Mon - Fri
08:00 am - 04:00 pm
Monika Filipiuk
Languages:
English, Polish, German
Mon - Fri
08:00 am - 04:00 pm
Poland, Podlaskiy, 15-620, Białystok, ul. Elewatorska 29
Seller's local time: 04:35 am (CEST)
Selling machinery or vehicles?
You can do it with us!