New Mobilheim/ Mobile House / Black Stone XL / 40qm Wohnflaeche/ 57 mobile home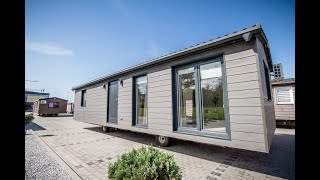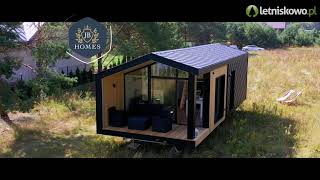 1/21
Description
Overall dimensions
105 ft × 45.93 ft × 13.02 ft
Transport dimensions
105 ft × 45.93 ft × 13.02 ft
Need delivery?
Calculate the cost of delivery
External dimensions: 10x4.3 (43m2)
Area: 8.1x4.3 (35m2)
Usuable area: 27.9m2
living room with kitchen: 15.1 m2, bathroom: 3.7m2, bedroom: 9.1m2 (entresol 4.2m2 , terrace 7.3m2)
Weight: 10 ton
Height of rooms: 2.75m
Number of rooms: living room with kitchen, bathroom with toilet, bedroom, entresol, terrace
Number of sleeping places: 3/4
Construction of mobile home: Steel completed with wooden substructure based on a construction with 6 wheels, including 2 steering wheels (steering axle). Galvanized chassis. Drawbar set with possibility to transfer from the front to back of home enabling manoeuvring.
The model has 6 support points. Set of 4 pieces of steel support legs included.
Floor: Steel construction, water resistance and galvanized steel sheet, PUR open-cell foam 18cm, wooden substructure, OSB board, vinyl panel.
Roof/ceiling: Steel construction, wooden substructure, PUR open-cell foam 18cm, highly vapour-permeable membrane, roof covered with aluminium facade system.
Increased ceiling in the whole home. Wooden finish and Kerradeco wall system inside.
External walls: Elevation finished with aluminium facade system and Siberian larch board. In addition to steel structure elements, there are wooden substructure in the walls, OSB board, insulation of PUR open-cell foam 18cm, membrane (wind insulation) and vapor barrier foil.
Internal walls: Wooden construction, OSB board, covered with a wide MDF panel and Kerradeco wall system; partition walls soundproofed with mineral wool 5cm.
Door: Triple-glazed windows, PVC one-winged entrance door 90/200 cm with high quality finish in veneer; MDF white internal doors 70/200 cm.
Windows: 7/6 chamber system, profile/80mm, triple-glazed windows with a steel frame, high quality finishing surface in veneer outside, gable window with sliding system in a frame of 3.7x2.8m. Dimensions may vary with actual dimensions +/- 5 cm.
Electric installation: Main switchboard, 3 phase installation. Electric wires in an additional conduit. Wire to the sockets: 3x2.5 mm2, for lighting 3x1.5mm2. Electrical sockets, USB socket (x3),
antena socket (x2), Internet (x1) and switches. Double outside sockets (x2).
Water and sewage installation: ALU-PEX and PVC pipes in the kitchen and bathroom. The wall-hidden installation led out under the home to power supply.
Ventilation: Sanitary ventilation, continuous two-stage exhaust ventilation located on the bathroom wall, air intake set with a heater.
Indoor lightening: Ceiling lighting – adjustable LED points in each room and additionally linear LED lighting.
Outdoor lightening: Directional wall scones and additional waterproof linear LED lightening in the glazed gable wall.
Heating: Electric heater in the bathroom, underfloor heating (special heating foil for work under the floor panel) cooperating with controllers with Wi-Fi function.
Bathroom: Square corner shower 80x80 cm made of one form, LED hanging round mirror 80 cm, counter top washbasin and cabinet with built in 55l boiler and washing machine, hanging toilet bowl.
Kitchen: Kitchen furniture, built-in large fridge, telescopic hood, 4-ring induction hob, combined oven with microwave function, dishwasher, stainless under – counter sink.
Table top made of HPL compact disc.
Living room: Fold-out sofa bed, coffee table, table with 4 chairs, hanging cabinet, place for TV/antena socket, air-conditioner.
Bedroom: double bed 160/200 cm with changeable spring mattress and bedding container, wardrobe (bar, shelves) and place for TV/antena socket, 2 bedside tables, hanging shelves.
Entresol: Wooden ladder, balustrade, mattress.
Terrace: Made of Siberian larch board.
Legenda pod rzutem
Living room
coffee table
sofa bed
hanging cabinet
antena socket
table with chairs
air-conditioner
Kitchen
kitchen furniture
dishwasher
under – counter sink
large built-in fridge
hood
induction hob
combined oven mith microwave function
Bathroom
bathroom cabinet
shower
WC
Counter top washbasin
mirror
boiler
washing machine
electric heater

bedroom
double bed
wardrobe
bedside table
hanging cabinet
antena socket

ENTRESOL
mattress
wooden ladder

... also available in bigger size 13,2x4,3 m - JB BLACK STONE XL
LUXUS MOBILHEIM BLACK STONE XL JB 57m2
- Abmessungen 13,2mx 4,3m- 57m2
- Anzahl der Raume : Wohnzimmer mit Kuechenzeile, Badezimmer,
- 2x Schlafzimmer, Aussenterrasse
- Anzahl der Schlafplaetze 4/5
- Nutzfläche 39,8m2
- Gewicht 12 Tonnen - Raumhöhe 2.75 m
- Mobilheimkonstruktion: Stahlgerüst mit Holzelementen.
- Fußboden: Neben Stahlbauelementen auch wasserfest verleimtes Sperrholz,
- Dach / Decke: Neben Stahlbauelementen auch eine Unterkonstruktion aus Holz, offenporiger Polyurethan-Schaumstoff 18 cm, hochdampfdurchlässige Membran, OSB-platte. Dach mit Aluminiumfassadensystem bedeckt,
- Eine erhöhte Decke im ganzen Haus mit Holzverkleidung und Kerradeco-wandpaneelen belegt.
- Außenwände: Fassade mit Aluminiumfassadensystem verlegt und mit Fassadenbretter .
- Trennwände: Holzkonstruktion, OSB-PIatte mit MDF-PaneeIen und Kerradeco-Wandsystem bedeckt, Trennwände gedämmt mit 5cm Mineralwolle
- Türen: 3-fach verglaste, einflügelige Eingangstür Breite/Höhe 90/200 cm, aus hochwertigem PVC mit Außendekorfolie in verschiedenen Farben,
- Innentüren 70/200 cm, weiß.
Das Mobilhaus kann nach vorheriger Absprache bei uns im Firmensitz in Białystok, Polen angeschaut werden.
Der Preis beinhaltet keine Transportkosten
*Erstattung der Reisekosten (bis zu 500 EUR) , wenn ein Auftrag am Firmensitz erteilt wird.
Bei uns Finden sie Ihr Traumhaus: kompakt, klein, mobil und winterfest.
Es sind verschiedenen Modelle ( von 35qm 43qm bis zu 57qm)qm 43qm bis zu 57qm)
Fotos sind nicht Gegenstand des Angebot .
Mehr unter :
show contacts
JB Homes Black Stone
- Wymiary 13,2mx 4,3m- 57m2
- Ilość pokoi: Pokój dzienny z aneksem kuchennym, łazienka,
- 2x sypialnie, taras zewnętrzny
- Liczba miejsc do spania 4/5
- Powierzchnia użytkowa przyczepy kempingowej 39,8m2
- Waga 12 ton - wysokość pomieszczenia 2,75 m
- Konstrukcja domu mobilnego: rama stalowa z elementami drewnianymi.
- Podłoga: Oprócz stalowych elementów konstrukcyjnych również sklejka wodoodporna klejona,
- Dach / strop: Oprócz elementów konstrukcji stalowej również podkonstrukcja z drewna, pianka poliuretanowa otwartoporowa 18 cm, membrana wysokoparoprzepuszczalna, płyta OSB. Dach pokryty aluminiowym systemem fasadowym,
- podwyższony sufit w całym domu pokryty szalówką drewnianą oraz panele ścienne Kerradeco.
- Elewacja ułożona w systemie fasadowym aluminiowym i obłożona deskami elewacyjnymi .
- ściany działowe: Konstrukcja drewniana, płyta OSB-PIatte obłożona płytą MDF-PaneeIen oraz system ścienny Kerradeco, ściany działowe ocieplone wełną mineralną 5cm -
- Drzwi: trzyszybowe, jednoskrzydłowe wejściowe o szerokości/wysokości 90/200 cm, wykonane z wysokiej jakości PCV z zewnętrzną folią dekoracyjną w różnych kolorach,
- drzwi wewnętrzne 70/200 cm, białe.
Dom mobilny można obejrzeć po wcześniejszym uzgodnieniu w siedzibie naszej firmy w Białymstoku.
Cena nie zawiera kosztów transportu
*Zwrot kosztów podróży (do 500 EUR), jeśli zamówienie zostanie złożone w siedzibie firmy.
Zdjęcia nie są przedmiotem oferty U nas znajdziesz swój wymarzony dom :kompaktowy, mały, mobilny, zimowy.
Dostępne są różne modele (35 m kw., 43 m kw., 57 m kw.).
Więcej na stronie:
show contacts
Important
This offer is for guidance only. Please request more precise information from the seller.
Safety tips
Seller's contacts
Marzena Rymsza
Languages:
Polish, German
Mon - Fri
08:00 am - 04:00 pm
Monika Filipiuk
Languages:
English, Polish, German
Mon - Fri
08:00 am - 04:00 pm
Poland, Podlaskiy, 15-620, Białystok, ul. Elewatorska 29
Seller's local time: 07:26 am (CET)
Selling machinery or vehicles?
You can do it with us!